Have you ever noticed the beauty of a cumulonimbus cloud about to burst into tears? Can you recall the smell of post-rain humus ? When was the last time you caressed a tree, even a dead one ?
In a dystopian far-future, meet Trebor (a tree in a pot) and Robert (an acrodancer). Intertwined, leaning on one another, these two entities exist in sync, supporting each other throughout the one hour acrobatic dialogue that is La Vieille Souche. Intimate, minimalistic, absurd, optimistic and highly physical, the piece places Trebor and Robert on an equal footing.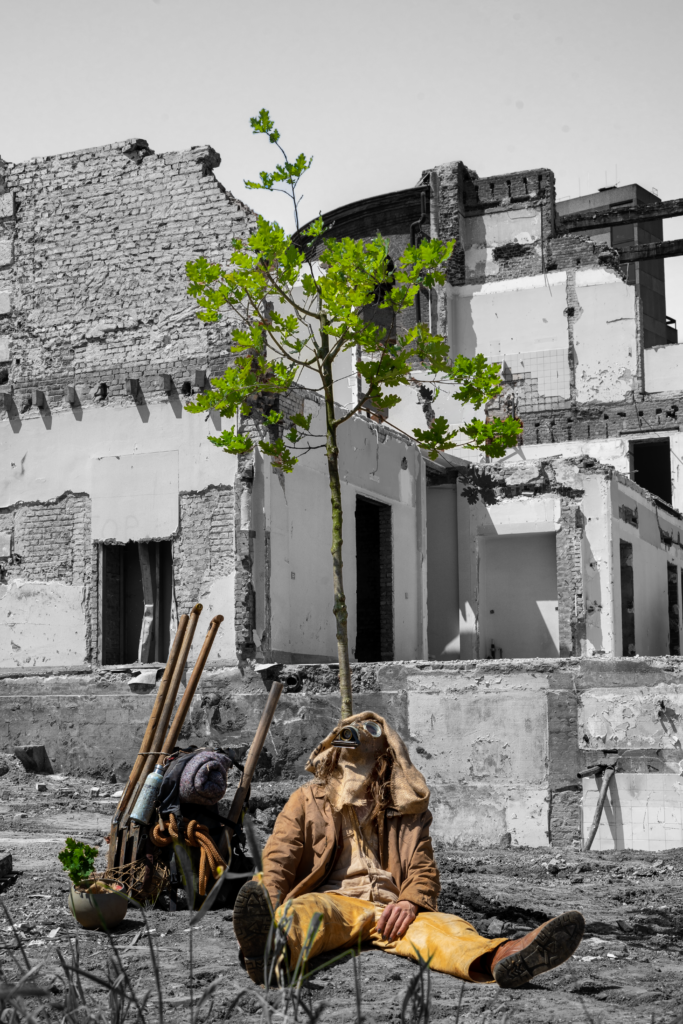 La Vieille Souche is an ode dedicated to life, in all its absurdity, and to the walnut tree at the edge of the garden of my childhood home; a tree who carried my first "cabanes", the early sorrows of my heart, and who still wears – proudly – the scars of the swing's ropes.
Specs 
One performer and one tree one stage
Location: Indoor and outdoor
Duration: 50-60 minutes
Capacity: 25 – 250
Age: 8+
Audience circular or semi circular
Artistic team :
Tree : Trebor Quercus Robur
Artist, performer, maker : Samuel Rhyner
Music : Samuel Rhyner, with the help of Pierrick Bacher
Costume and special effects : Menno Boerdam
Choreographic support : Piet Van Dycke
Dramaturgical support : Franka Tremblay
Outside eye : Adele Didelez, Lina Isaksson, Samantha Cunningham
Scenographic advice : Sammy Van Den Heuvel
Scenographic construction : Martin Baarda and Luc Cauwenberghs
Light design : Bart Verzellenberg
Trailer and pictures : Astrid & Roel
Partners of the project :
Coproductions :
Mira miro (Gent, BE), CIRC'UIT (BE), CIRKLABO (Leuven, BE), Circuswerkplaats Dommelhof (Neerpelt, BE)
Artistic residencies :
UP – Circus & Performing Arts (Brussels, BE), deRUIMTE (Leuven, BE),
Tent (Amsterdam, NL), Panama pictures ('s Hertogenbosch, NL), 
Latitude 50 (Marchin, Be)
Supported by Etincelles de Culture (Valais, CH)
Help with the distribution : Buro Piket